Aloha Friends, Family & Clients.
MELE KALIKIMAKA from our Ohana to yours

Another great year in the books! We've been lucky enough to share the world with so many of you. This year we again sent several schools on field trips to Maui, and the Big Island. We sent travelers all over the world including some European countries by land and sea, also the US mainland. We also escorted a corporate group from Singapore to several of our islands. Of course we always enjoy bringing clients to all the Hawaiian Islands. Anytime we can share our islands with clients, family or friends it is a real pleasure.

What's new with us? Christopher is now fourteen and has started high school at one of the top private schools in Hawaii, Mid-Pacific Institute. He is keeping excellent grades, plays water polo, loves technology and is now working on his Eagle Scout project in Boy Scouts. He is now slightly taller than his Dad. Megan, is becoming quite the beautiful girl, is now ten and enjoys ballet, dance, her animals and playing with friends. Megan performed in the Nutcracker ballet at the Blaisdell Concert Hall, she was a Toy Soldier! As parents, seeing your child perform in such a major production is very rewarding. We are very proud of both our children.
Lorrie is still running Travel Bug and she also works part time at Megan's ballet studio when she's not running the kids around to various activities. Bill is still working at UH and also onboard a local whale watch boat (the Navatek) as the lead Naturalist.
Just a note to you as a friend: We are always ready to help anyone plan their next travel adventure. Obviously we can help with travels to anywhere in the world; we are also travel experts on everything about traveling in Hawaii! If you ever have friends or family members that are looking to travel, please feel free to forward them to us. If your client referral results in a package booking then we will send you a bag of coffee from Hawaii. If you book a package deal for yourself through Travel Bug then we will send you a bag of coffee from Hawaii. We send friends, families, groups and clients everywhere: island hopping, hiking adventures, river cruises, Alaskan cruises, Hawaiian cruises, ski vacations, escorted luxury tours, all-inclusive packages to Mexico and the Caribbean just to name a few things for you to consider.

Please keep in mind, if you believe you have found a good travel offer, give us a chance to compare prices to see if we can match or beat the price that you found! We really appreciate it when our friends let us help them out on their travel adventures or give us a chance to meet or beat a travel deal they found.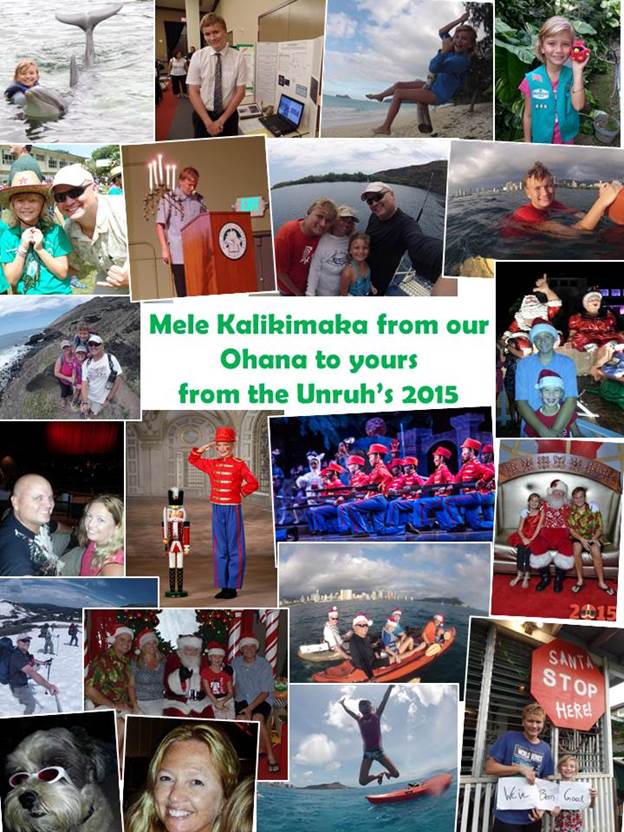 Mele Kalikimaka (Pictures starting upper left): Megan being a Dolphin Trainer; Christopher science fair project on Asteroids (he made it to the State competition); Megan enjoying a beach swing on one of our favorite beaches (Sherwoods-Waimanalo); Megan (now a Junior) in her Girl Scout uniform with a little birdie we hosted for a while; Megan and Bill at her school May Day celebration, traditional 4 th Grade western dance; Christopher at his National Junior Honor Society (NJHS) induction ceremony at Mid-Pacific School; Our family on an adventure in Kealakekua Bay-Big Island; Christopher swimming off the kayak off Waikiki; The Unruh family hiking to Kaena Point on Oahu; Megan and Christopher with Mr. & Mrs. Shaka Claus at Honolulu Hale City Lights; Bill & Lorrie ready to watch Megan in the Ballet Hawaii production of Nutcracker at the Blaisdell Concert Hall; Megan as a Toy Soldier in the Nutcracker performance; Megan as a Toy Soldier in the production (she is the 2 nd one in the left row); Megan and Christopher with their annual picture with Santa; Bill backpacking with some friends in Colorado in late June, still lots of snow to melt; Our annual family picture with Santa at Honolulu Hale; Our annual Christmas kayak adventure off Waikiki with our good friend Paul; Our dog Murphy; Lorrie on her birthday; Megan having some kayak jumping fun off Waikiki; Lastly the annual picture of the kids trying to convince Santa they have been good!
Travel Bug is ALWAYS ready to help you on your next adventure!
This serves as our annual Christmas and New Year's card.
Where have you been this year? Are you ready for your next adventure?
If so, bug us at the Travel Bug: http://www.travelbughawaii.com
Email: tbug@hawaii.rr.com
Facebook: www.facebook.com/travelbughawaii
Ph: (808) 988-5240 (Honolulu , HI);
(316) 858-0990 (Wichita, KS);
1-877-827-3920 (toll free)