Aloha Friends, Family & Clients.
MELE KALIKIMAKA from our kayak to yours.

What a fabulous year it has been. We've been lucky enough to share the world with so many of you. This year we sent several schools on field trips to Maui, and the Big Island. We sent travelers all over the world but to name a few; we helped clients with their trips to many European countries by land and sea, also the US mainland. Of course we always enjoy bringing clients to all the Hawaiian Islands. Anytime we can share our islands with clients, family or friends it is a real pleasure. In June 2014 we escorted a group of 30 persons on an Alaskan cruise tour, what an adventure it was!

What's new with us? Christopher is now thirteen and attending one of the top private schools of Hawaii, Mid-Pacific Institute. He is keeping great grades, just finished a great science fair project, loves technology and is getting close to working on his Eagle Scout project in Boy Scouts. He is now as tall as his Dad. Megan, our little princess, is now nine and enjoys ballet, dance, her animals and playing with friends. She is now in fourth grade. Megan just recently performed in the Nutcracker ballet at the Blaisdell Concert Hall, she was a mouse! It was a great experience for her and she hopes to do it again next year.
Lorrie is still running Travel Bug when she's not running the kids around to various activities. Bill is still working at UH and also onboard a local whale watch boat (the Navatek) on Saturdays as the lead Naturalist.
Just a note to you as a friend: We are always ready to help anyone plan their next travel adventure. Obviously we can help with travels to anywhere in the world; we are also travel experts on everything about traveling in Hawaii! If you ever have friends or family members that are looking to travel, please feel free to forward them to us. If your client referral results in a package booking then we will send you a bag of coffee from Hawaii. If you book a package deal for yourself through Travel Bug then we will send you a bag of coffee from Hawaii. We send friends, families, groups and clients everywhere: island hopping, hiking adventures, river cruises, Alaskan cruises, Hawaiian cruises, ski vacations, escorted luxury tours, all-inclusive packages to Mexico and the Caribbean just to name a few things for you to consider.
Please keep in mind, if you believe you have found a good travel offer, give us a chance to compare prices to see if we can match or beat the price that you found! We really appreciate it when our friends let us help them out on their travel adventures or give us a chance to meet or beat a travel deal they found.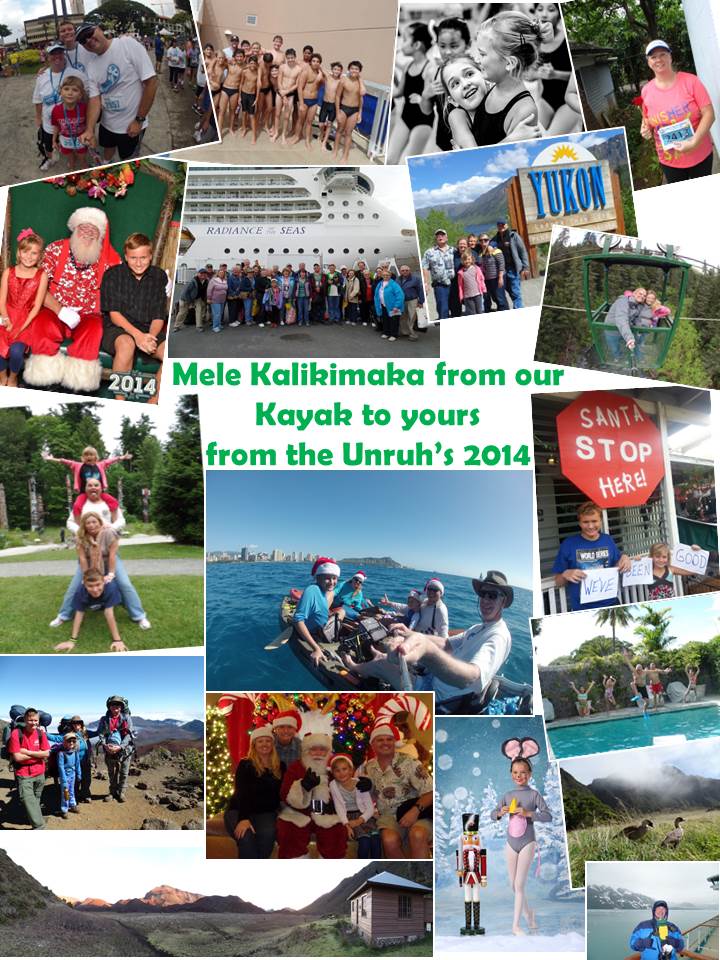 Mele Kalikimaka (starting upper left): The Unruh family after the 5k Family fun run in downtown Honolulu; Christopher and his Water Polo team; Megan being hugged during ballet practice; Lorrie after the Women's 10K run around Diamond Head; the kids with Santa; our group of adventurers getting ready to board an Alaskan cruise; with grandpa and grandma at the Yukon Divide; the two of us crossing a river gorge on a hand-tram; in Vancouver at the make your own Totem Pole stop; Mele Kalikimaka from our kayak to yours off Waikiki (with our friend Paul); the kids letting Santa know they've been good again this year with our stop sign!; a little pool fun at Megan's birthday; getting ready to hike Haleakala crater for Thanksgiving; our annual visit with Santa; Megan all dressed up for her part in the Nutcracker performance at the Blaisdell concert hall; Nene geese hanging out at Paliku cabin, Haleakala National Park; panoramic pic. of Haleakala National Park at Kapalaoa Cabin; Travel Bug cruising in front of a glacier with our friend Andy, Travel Bug is ALWAYS ready to help you on your next adventure!
This serves as our annual Christmas and New Year's card.

Where have you been this year? Are you ready for your next adventure?
If so, bug us at the Travel Bug: : http://www.travelbughawaii.com/
Email: tbug@hawaii.rr.com