Aloha Friends, Family & Clients.
Imagine a World of PEACE

What a wonderful year it has been. We've been lucky to share the world with so many of you. This year we sent several schools on field trips to Maui, Kauai, and the Big Island. We sent travelers all over the World but to name a few; we helped clients book trips to many European countries, all of the Hawaiian islands and many different countries in Asia. Of course we always enjoy bringing clients to the Islands of Hawaii. Anytime we can share our islands with clients, family or friends it is a real pleasure. In June 2014 we are escorting a group of 30 persons on an Alaskan cruise!

Mele Kalikimaka from the Unruh's and Travel Bug
What's new with us? Christopher is now twelve and attending one of the top private schools of Hawaii, Mid-Pacific Institute. He is keeping great grades and is currently on the presidents list. He is growing incredibly fast and is now 5 inches taller than his mother. He enjoys robotics, Boy Scouts, Soroban and anything involving technology. Megan, our little princess, is now eight and enjoys ballet, dance and playing with friends and is now in third grade.

Lorrie is still running Travel Bug when she's not running the kids around to various activities. As always, we love any referrals and, more importantly, we would love to help you plan your next travel adventure. Bill is still working at UH and also onboard a local Whale Watch boat (the Navatek) on Saturdays as the lead Naturalist.

Last summer we were lucky enough to visit family on the mainland and travel to New York and Washington DC to play and sightsee. We are home in Hawaii this Christmas but thinking of our families miles away. Hope we are able to see you in 2014 or at least send you on your next adventure!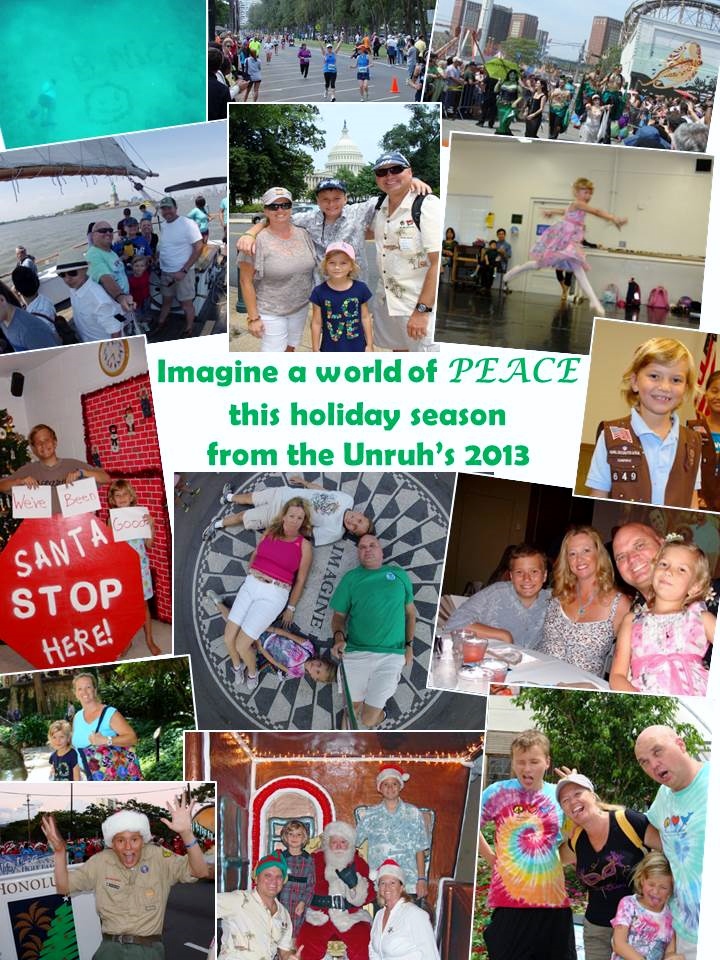 Imagine a world of PEACE (starting upper left): Bill free diving at North Shore Oahu near underwater graffiti "B NICE"; Lorrie running in the Women's 10k around Diamond Head; Mermaid Parade we watched in June – Coney Island, NY; Sailing around Manhattan island, NY & the Statue of Liberty; visiting our nation's capital in June; Megan in Ballet; the kids trying to convince Santa to stop again this year; Megan in brownies/Girl Scouts; the Unruh's imagining a world of PEACE – Strawberry Fields/John Lennon Peace Garden, Central Park, NY; out for dinner; Lorrie & Megan on the river walk – San Antonio, TX; Christopher being himself in the Honolulu Christmas Lights parade; our visit with Santa; just a goofy shot of us!

This serves as our annual Christmas and New Year's card.

Where have you been this year? Are you ready for your next adventure?
If so, bug us at the Travel Bug: : http://www.travelbughawaii.com/
Email: tbug@hawaii.rr.com
Facebook: www.facebook.com/travelbughawaii
Ph: (808) 988-5240 (Honolulu , HI);
(316) 858-0990 (Wichita, KS);
1-877-827-3920 (toll free)