MELE KALIKIMAKA 2012
Aloha Friends, Family & Clients.
What a wonderful year it has been. We've been lucky to share the world with so many of you. This year we brought a group of Australians to Hawaii and experience all the islands, we sent a group of Scuba Divers to Belize, and we sent several schools on field trips to Maui, Kauai, the Big Island and even Washington DC. We sent travelers all over the World but to name a few; we helped clients book trips to England, France, Italy, Scandinavian countries, all of the Hawaiian islands and many different countries in Asia. Of course we always enjoy bringing clients to the Islands of Hawaii. Anytime we can share our islands with new clients, family or friends it is a real pleasure.
Where have you been this year? Are you ready for your next adventure?
If so, bug us at the Travel Bug: : http://www.travelbughawaii.com/
Email: tbug@hawaii.rr.com
Facebook: www.facebook.com/travelbughawaii
Ph: (808) 988-5240 (Honolulu , HI);
(316) 858-0990 (Wichita, KS);
1-877-827-3920 (toll free)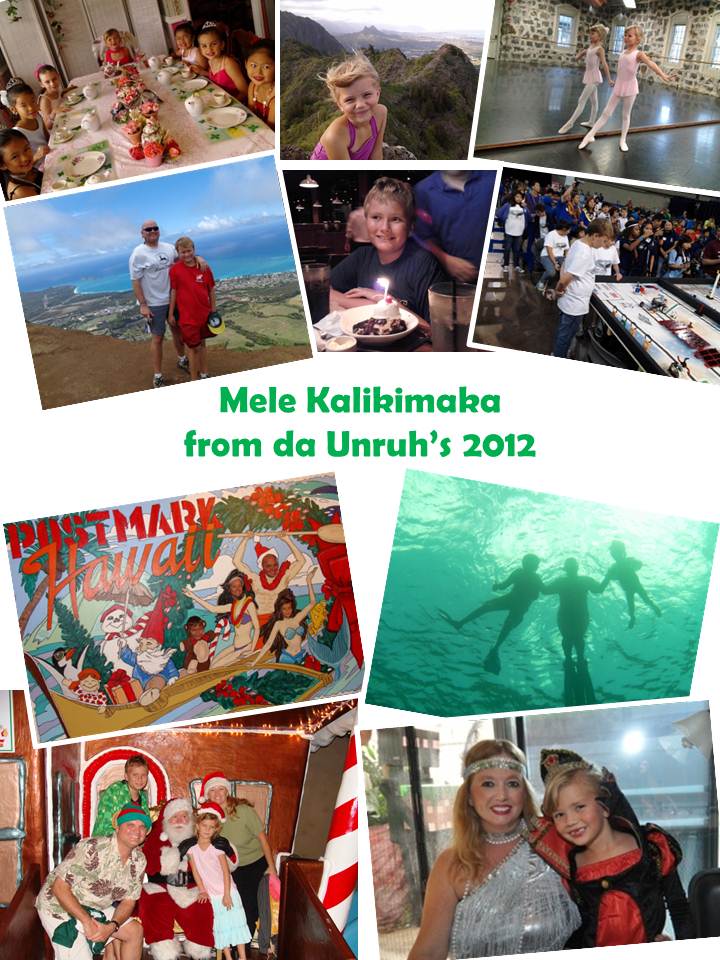 Mele Kalikimaka from the Unruh's and Travel Bug
What's new with us? Christopher is now eleven and attending one of the top private schools of Hawaii, Mid-Pacific Institute. He is keeping great grades. He made the presidents list the first two quarters. He is growing incredibly fast and is now 2 inches taller than his mother. He enjoys robotics, boy scouts, Soroban and anything involving technology. Megan, our little princess, is now seven and enjoys ballet, tumbling and dance. She is in second grade and enjoys chasing the boys at recess! She is just like her mom in so many ways.
Lorrie is still running Travel Bug when she's not running the kids around to various activities. As always, we love any referrals and, more importantly, we would love to help you plan your next travel adventure. Bill is still working at UH and also onboard a local Whale Watch boat (the Navatek) on Saturdays as the lead Naturalist.
Last Christmas we were blessed to be able to visit family on the mainland and do some skiing in Colorado. After school was out in May we hiked part of the Na Pali coast on Kauai, then in October we played on the Big Island and explored the world's most active volcano (Kilauea Volcano). We are home in Hawaii this Christmas but thinking of our families miles away. We've already started planning our next big adventure to the mainland next summer. Hope we are able to see you in 2013 or at least send you on your next adventure!
This serves as our annual Christmas and New Year's card.