HAPPY HOLIDAYS 2008
Aloha! We hope you had a great holiday season.
Sorry for the late greetings. A few of us were sick over the holidays and sometimes life gets going way too fast.
What's new with us? Christopher is now 7 years old, in 2nd grade and only 9 inches shorter than Lorrie. Megan is now 3 years old, going to pre-school and practicing to be a Princess.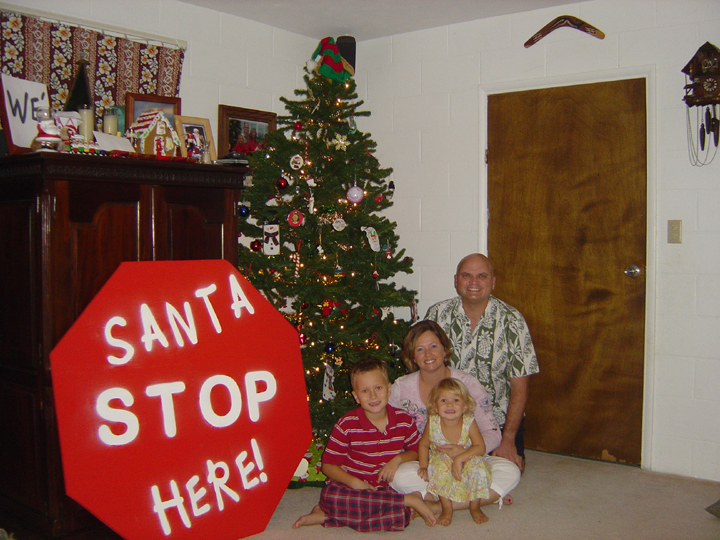 This holiday season was our first to stay in Hawaii . We were afraid Santa may miss us so we made a giant stop sign for Santa. We also made a runway for Santa and his sleigh in the front yard and good thing we did as Santa was sure to make a stop at our house. We even found evidence of the landing the next day.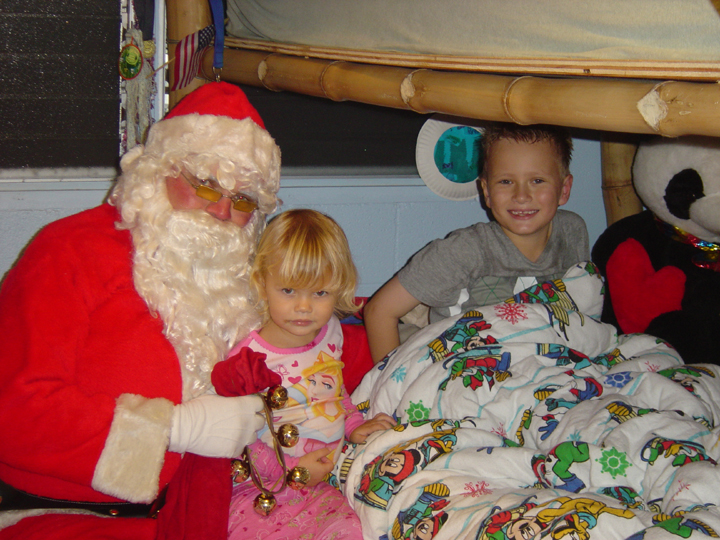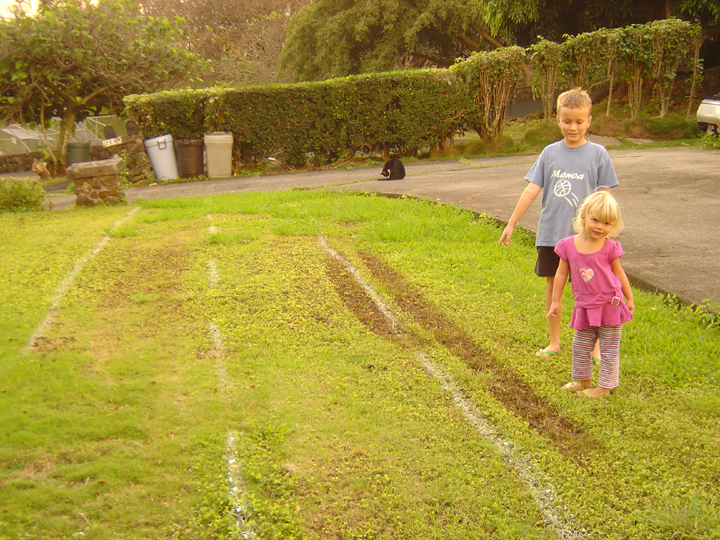 Bill is still working at UH full time and taking classes periodically. He also works onboard a local Whale Watch boat (the Navatek) on weekends during whale season as the Naturalist talking about the whales. If you are interested, he can get limited amount of employee discounts if you would like to check out our seasonal visitors.
Lorrie is still running Travel Bug. As always, we love any referrals. We hope the economy is not affecting you too much. If you do find that you are able to travel, we would love to help you, just let us know, there are some great travel deals to be had!
Lorrie's parents are visiting for a few months. They have rented a place nearby and are doing the snow bird thing until the beginning of April now that they are both retired. Christopher and Megan are very happy to spend more time with their grandparents.
This year we went to Disney World, Sea World, Universal Studio's and Kansas, needless to say, we had an incredible time. We also went to Maui on the new Hawaii Super Ferry over a long weekend, it was great to not worry about packing; when you drive your own car to another island, you just take it all with you and we did!
In 2008 we sent friends to all parts around the world. Some of the bigger trips were to Australia, New Zealand, France, Italy, Japan, several different cruises and as always, we brought in many families and honeymooners to all the Hawaiian islands.
This spring we will be escorting a group to the Big Island and escorting a group from Australia to experience Hawaii . If you know of any groups looking to travel to Hawaii , we would love to customize a trip for them, just let us know.
We are looking forward to our next big travel adventure, however, we are not sure where we will be going.
This serves as our annual Christmas card.
Good Luck and may you have a fruitful 2009
Lorrie, Bill, Christopher & Megan Unruh
Travel Bug (Travelers Providing Travel to Travelers)
2414-A Parker Pl., Honolulu , HI 96822
Ph: (808) 988-5240; 1-877-827-3920 (toll free)
e-mail: tbug@hawaii.rr.com web: www.travelbughawaii.com